Horizon Series Compressors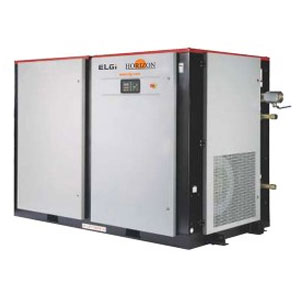 90-250 KW Single-Stage Horizon
Applications :
☞

Paper & pulp
☞

Machine tool shops
☞

Textiles
☞

Cement
☞

Automotive
☞

Steel making
☞

Food processing
Features :
☞

Oil carry over less than 2ppm
☞

Grouped service points ensure easy access to components for maintenance
☞

Optimized cooler design and cooling fans ensure low running temperatures
☞

Versatile neuron II micro controller provides easy diagnostics of system parameters
☞

Models available as bare units/side located drier/variable speed drive variants
☞

Wide range of accessories – vertical air receivers, driers, automated supply side controller and variable frequency drives to meet diverse operating conditions
EE75-EE160 Two-Stage Horizon
A single-stage compressor, operating at a discharge pressure of 9 bar, has a compression ratio of 1:9 (Ratio of Suction to Discharge of a Screw Airend) .In a two-stage compressor operating at the same discharge pressure, the compression ratio is divided between the two-stages of tandem airend and is about 1:3 in each stage. This makes the airend more reliable and efficient due to smaller loads on the bearings. The volumetric efficiency of two-stage is better than single-stage compression.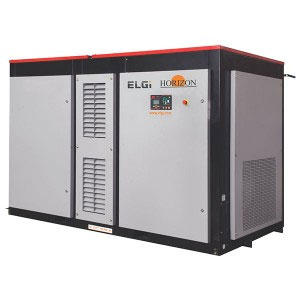 Applications :
☞

Machine tool shops
☞

Textiles
☞

Cement
☞

Automotive
☞

Steel making
☞

Food processing
Features :
☞

Oil carry over less than 1ppm
☞

Grouped service points ensure easy access to components for maintenance
☞

Optimized cooler design and cooling fans ensure low running temperatures
☞

Versatile neuron II micro controller provides easy diagnostics of system parameters
☞

Models available as bare units/side located drier/variable speed drive variants
☞

Wide range of accessories – vertical air receivers, driers, automated supply side controller and variable frequency drives to meet diverse operating conditions
If Any Query Please Contact